Doomsday, the ultimate being, and the one that was too much for even the Man of Steel, Mattel makes an action figure for him in the new DC Superheros line, but in typical Mattel fashion, he can be a real tough one to find. It's always the few figures I REALLY want from a Mattel line that they make so damn hard to get, but I found him at Wal-Mart last week, put him on Layaway, and a week later, took him home with me.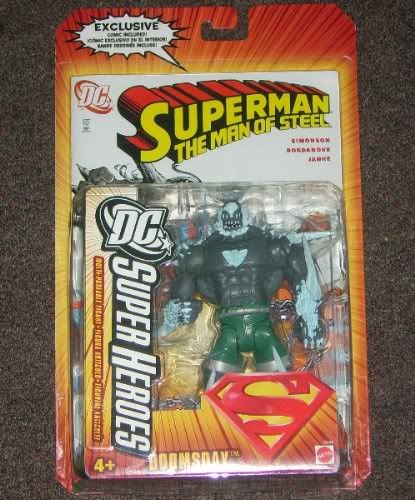 There he is in his package. He comes with a comic book like Marvel Legends. A pretty plain package. The only thing really making it stand out is the comic in the back. Now to get him out of the box.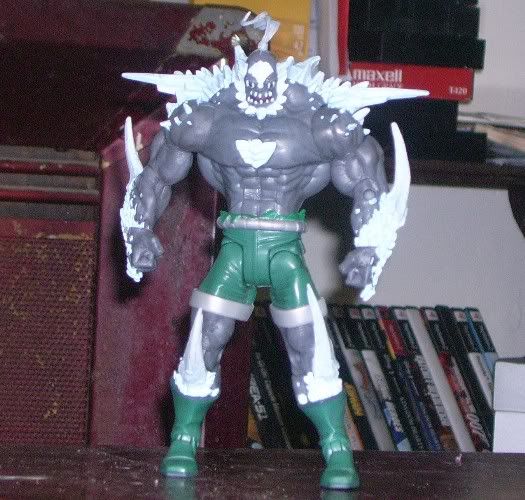 Out of the box, he doesn't seem QUITE as impressive as the DC Direct figure, but he is still one mean lookin' MOTHER! Ironiclly, his DC Direct figure is hard to find too. What is it about Doomsday here that says "Make him a bitch to find?" Maybe it's because few people want the monster that got Superman killed in their living room.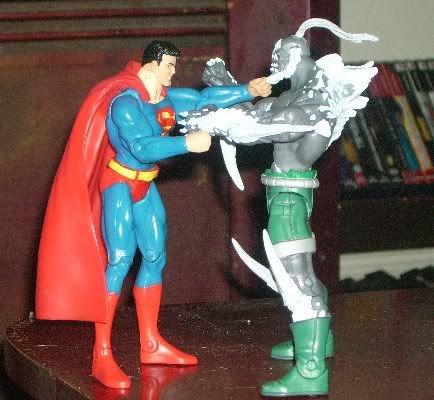 Speaking of Superman, here he is with the one that came with Batman. I don't have the Superman from this line quite yet. As far as poseability goes, he's not bad. He's not Marvel Legends articulated, but he seems to have at least a little more articulation than your average DC Direct figure. His arms move, his legs move, even his stomach moves.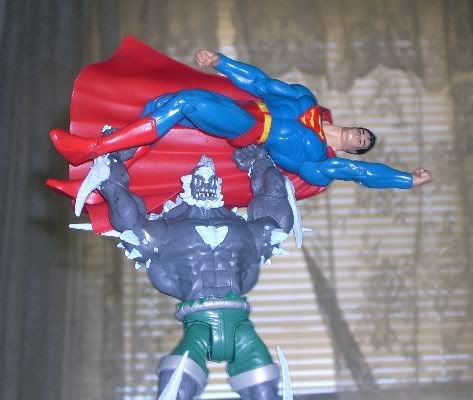 DOOMSDAY SMASH!! Superman's in trouble now, and so will yours because if you se him and don't already own the DC Direct Doomsday, he makes a good addition to your collection. The DC Superheros line has the potential of being DC's answer to Marvel Legends, and at being a poor man's DC Direct. Here's hoping they manage to break from their Batman/Superman box and branch out a bit. There's a lot of potential here, and I don't think we want it to see it go the way of Masters of the Universe, or Batman.