After months of trying to find someone who DIDN'T have it on "backorder." *I'm looking at YOU Toysnjoys!* I finally acquired the Astro Boy action figure by Takara. Made in Japan, I got it from some guy at Hong Kong. *yay Ebay*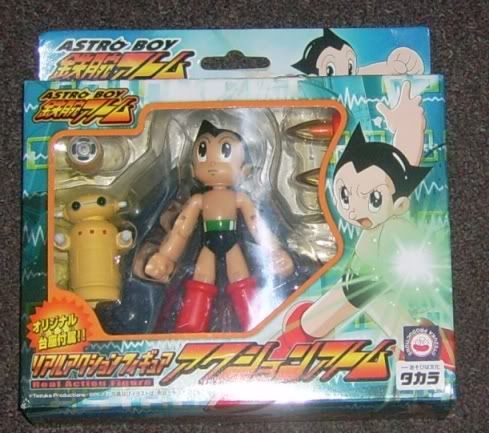 Here it is in it's box. The box is very colorful and unlike most American figures that are just cardbacks with the figure attachted to a plastic bubble, this is a completely encasing box. I could really see this standing out in a toy store.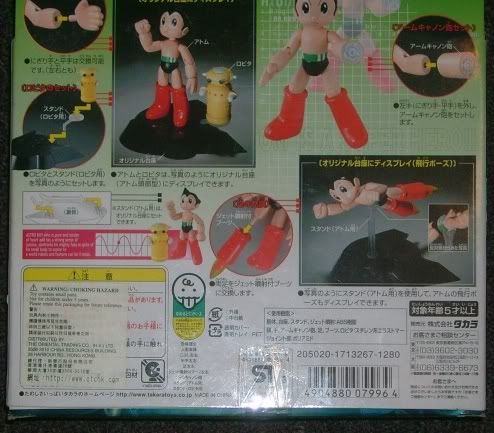 back of the box. I imagine most of the writing here is descriptions of his features, accesories, and the story of Astro Boy. Actually, the story of Astro is written in english on the left side. What's more interesting is that he's referred to as "Astro Boy" rather than his Japanese name "Mighty Atom." It's almost like they KNEW this figure would find it's way to American shores. Hmm... Anyway, before I go into the figure, I must point out a couple of things that made me giggle on this box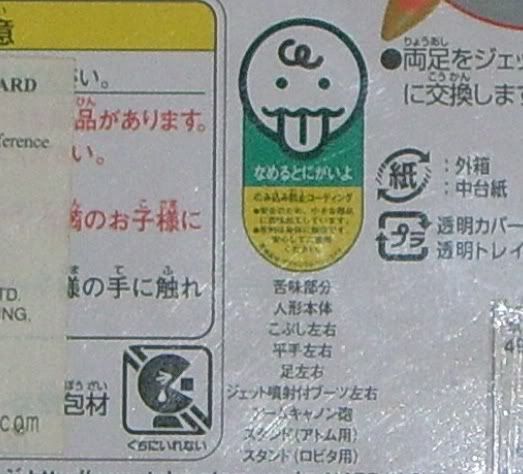 First off, I have no idea why Charlie Brown is sticking his tounge at me, but it's highly amusing and second, the bottom left goes on about the "choking hazards" of the toy and look at the picture they use. They just sacrificed Pac-Man so Japanese children can know better than to put any of these things in their mouths. So remember kids, whenever you think about putting a toy accessory in your mouth, just think of Pac Man.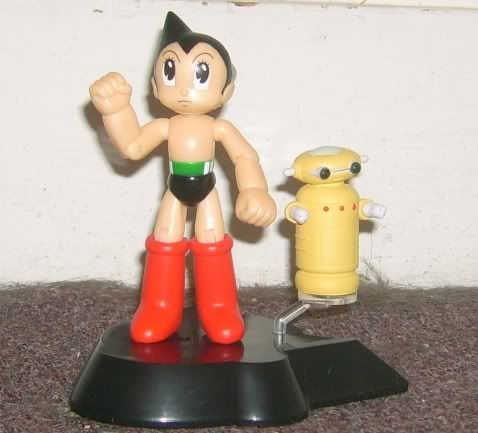 Here he is out of his box and on his stand. The figure is between 4" and 5". Yeah, he comes with a stand. He also comes with his little robot nanny "Robita." (I think that's the Robot's name) But that's not all he has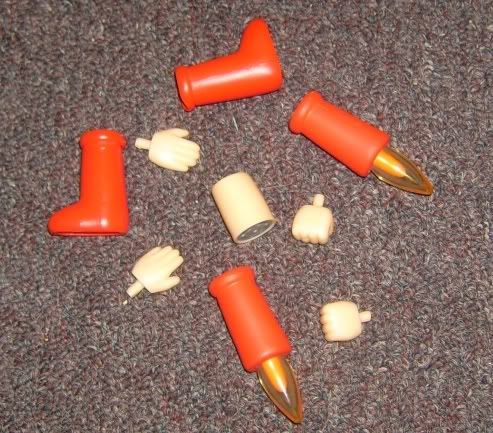 These are all the pieces you can snap on him. While the American Astro Boy line made you buy three seperate figures if you wanted him to pose, fly, and shoot his arm cannon, Japan just gives you all of his abilities in one set. Boy, did WE get ripped off. But as you can see, they were right to feature a Pac-Man chocking to death on the box because this has a LOT of little pieces.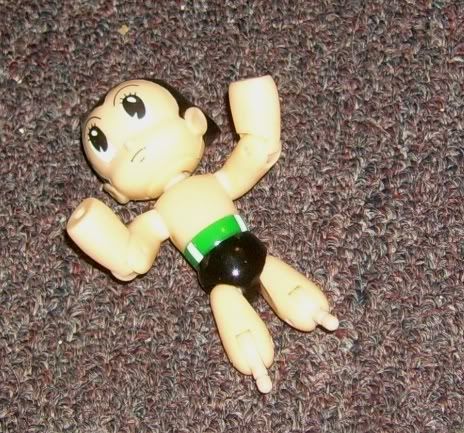 "Umm... little help?"
Incase you're wondering, here's Astro Boy when I took that shot of all the pieces.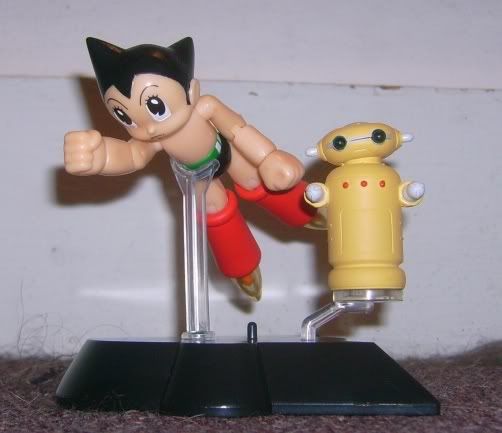 As you saw, he comes with his rocket legs so you can have him fly. He even has a piece that connects to the stand so you can display him this way if you want.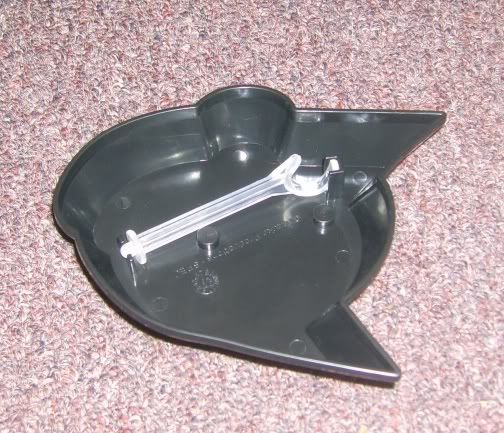 and even a place to put that piece underneath the stand if you don't.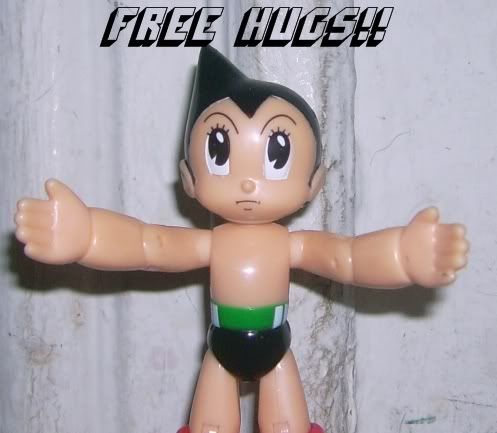 and here he is with the open hands if you wanted to see.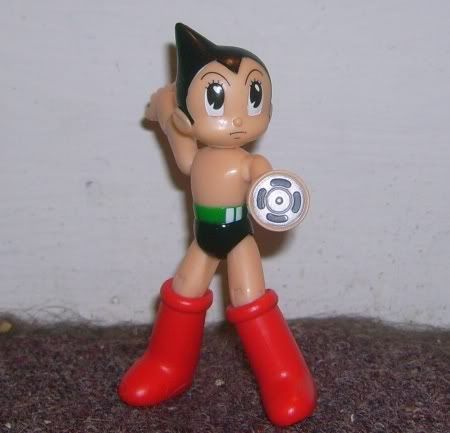 My only REAL issue with the set is that if they're going to give you this many accesories, they really should give you something to store them in. Like a compartment in the stand or something. But that's my only complaint. His articulation is great, his facial expression speaks his character far better than any of his American figures, and the figure comes with everything he'll need to combat the forces of evil. (Plus a stand for when he isn't)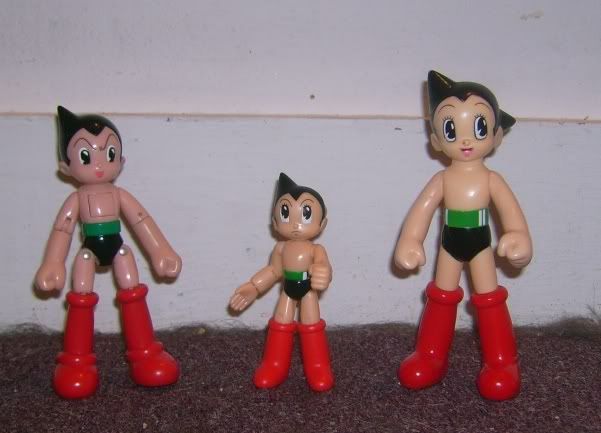 Here he is with my other Astro Boy figures for comparison. So, if you're a fan of Astro Boy and are willing to buy something from ALL the way from Asia, make a note to own this figure. You won't regret it.
and sense we're all here... LET'S PARTY!!!